Forklift Battery Regeneration
Forklift Battery Regeneration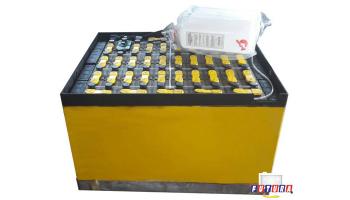 We are pleased to report that we have introduced a new service for our customers: regeneration forklift batteries.

We know that replacing forklift batteries can be a significant expense for companies that use them in their daily operations. Forklift battery regeneration is a solution that enables companies to extend the useful life of forklift batteries and reduce long-term costs.

The forklift battery regeneration process used by Futura Batteries is an advanced and technologically advanced method of restoring battery performance. Forklift battery regeneration involves the use of advanced technologies to renew cells, remove impurities, and improve capacity and service life.

Regeneration has numerous benefits for companies. First, it reduces battery replacement costs. By remanufacturing forklift batteries, companies can extend the life of existing batteries, avoiding the need to purchase new batteries and dispose of old ones. In this way, companies can save money.

Second, remanufacturing forklift batteries helps preserve the environment. By reducing the number of batteries disposed of, remanufacturing forklift batteries helps reduce the environmental impact of battery production and disposal of used batteries.

Finally, remanufacturing forklift batteries is a quick and efficient process.

At Futura Batterie, our customers' satisfaction is our top priority. For this reason, we are committed to providing the best products and services in the industry, including forklift battery remanufacturing. We are confident that this new offering represents added value for companies that choose to work with us.

If you are interested in forklift battery regeneration, please do not hesitate to contact us. Our team of experts is available to provide you with more information and to find the best solution for your needs.
If you need our staff call us at 0442 412 608 / 347 801 7450 or write to us and we will get back to you.
---